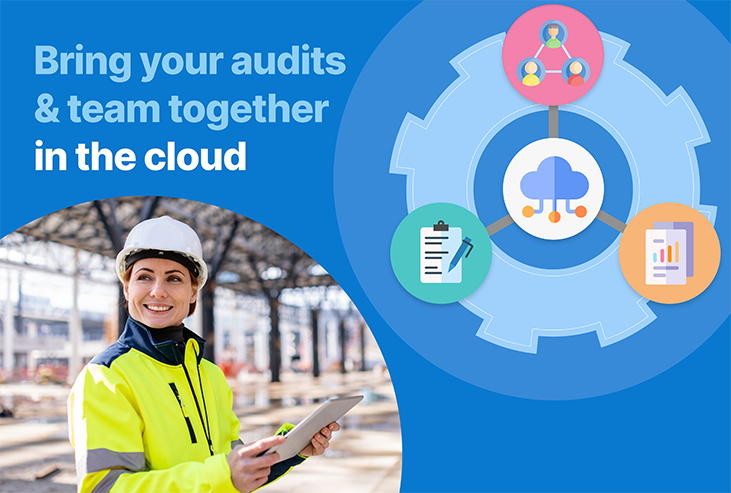 At one time, buying a brand-new home was an exciting, positive and life-changing event, but in recent years, investing in a new-build property has often, unfortunately, become life-changing for all the wrong reasons.
Rather than purchasing their dream house, modern buyers have all-too-often discovered that they have burdened themselves with an expensive and stressful problem[1].
From missing insulation to condensation issues, and from poor drainage to rising damp, more new-build homes these days are suffering from severe structural issues that can cause chaos for those who are unlucky enough to buy them.
Snagging lists are no longer about minor problems like poorly fitted kitchen units that can easily and quickly be rectified by the builder. Rather, families are discovering that they often have to live through ongoing rectification works, or even move out of their new home for weeks on end as builders work to rectify complex issues that are seriously impacting their personal safety and quality of life[2].
With this in mind, it's no wonder that there have been calls for improvements to be made in the snagging process to improve the quality of buildings that get handed over to the end-users.
Which Problems Have Been Identified In The Process?
A number of issues have been identified in the snagging process that are causing numerous issues for new homeowners. Due to these problems, homeowners find it increasingly difficult to get the problems that they have noticed in their new property repaired and rectified. These issues include:
A lack of communication with contractors that leads to snags and issues getting lost in the system.
Multiple snag lists are drawn up by consultants, which can cause a conflict of information along with unclear instructions.
An inability to log the identified issues and to notify the contractor when the project is still in its early stages leads to snags getting built into the project, thus resulting in a more complex rectification process.
Which Solution Has Been Identified For These Issues?
Fortunately, although a number of issues have been identified with regard to snagging lists, so too has a solution. This centres around increasing collaboration between the various parties involved in the construction of new properties to improve the efficiency of snagging[3].
When both contractors and consultants are involved in the drawing up of a single snagging list, clarity can be achieved as to which issues have been pinpointed and which require addressing. The contractor can then easily delegate the repairs and rectifications that have been deemed necessary to their subcontractors with greater efficiency, thus ensuring the new homeowner doesn't end up buying a home that is riddled with complicated problems.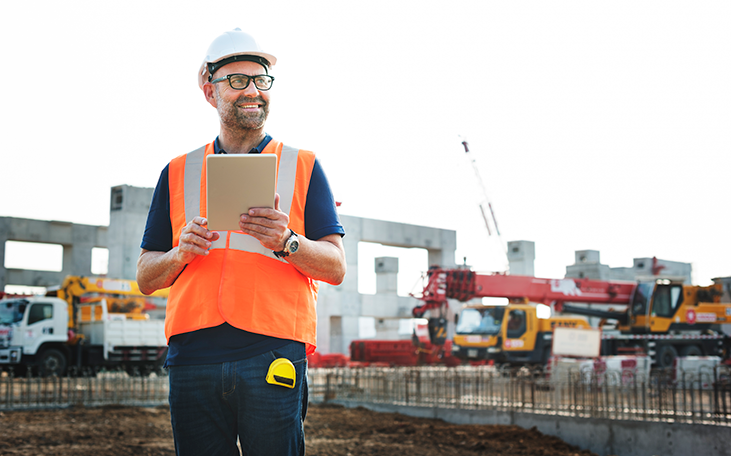 It's possible to set up a system to resolve these issues at the beginning of a construction project so the snags can be accumulated as the project develops and then closed out during each phase. This enables quality to be ensured before the individual elements are built upon, mitigating the emergence of major structural flaws once the buyer has moved into their dream property.
Insite and the Snagging List Problem
We have built Insite to be an effective and efficient collaboration hub between all parties involved in the construction project. The software is simple to use, which ensures that there is no barrier to collaboration and allows all parties to adopt it with virtually no training.
Even contractors who have never used the app before can simply pick it up and use it without any difficulties.
Super easy to pick up and just use. Each installer/ installers we have on site (different every day) need little to no training on the app. Never experienced anyone using the tools incorrectly.
Ben Frost, Product Designer.
Our cost-effective, purpose-built auditing tool ensures that no inflated costs are incurred for unused tools and allows each user to create their own account completely free of charge for use across all their devices. Insite is also useful for a range of other auditing processes, which makes it great value for money.
Insite has many benefits, including:
The ability to assign role-based permissions so that snag lists can remain fully protected at all times.
An inbuilt status request feature that allows contractors to flag individual items as complete, along with supporting comments and images.
An inbuilt approval and rejection process for the above.
An automated audit trail on every change to an issue or snag to provide bulletproof records throughout the duration of each project. Providing proof that the identified snags have been issued to the contractor, reducing conflict.
The creation of PDF & Excel documents as a visual summary of all issues. These can be used for reporting against or issuing out to contractors for rectification outside the system.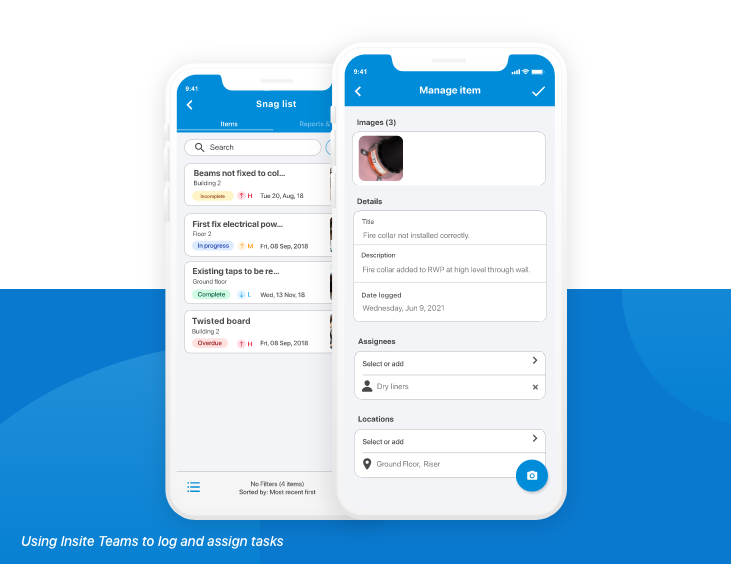 A Unique, Cost-Effective & User-Friendly Solution
As reports of new-build home snagging problems are on the rise, pressure is mounting on project managers and contract administrators to find more effective ways to ensure that serious issues can be identified and rectified efficiently before the property is handed over to the homeowner.
With this in mind, it's never been more important to find and adopt a better system for logging, updating and issuing snagging lists. We've built Insite as a solution to this problem. By allowing for greater and more effective collaboration between the different parties involved in construction projects, the snagging process can be managed more efficiently, helping to improve the rate and speed of closeouts.
These improvements coupled with an enhanced ability to take a proactive approach to snagging throughout a project result in far fewer snags to resolve at completion.
Insite provide a unique, cost-effective and user-friendly solution to solve the identified issues that the construction industry has been looking for. With Insite it is simpler, faster and more efficient to pinpoint, log and address the problems on each project long before the handover stage to the homeowner is reached.
For more information about Insite, go to: www.insite.co.uk or contact me by sending an email to harry@insiteapp.co.uk.
[1]: BBC, 2019 - Growing complaints about New Build Houses
https://www.bbc.co.uk/news/business-47826166
[2]: New Home Quality Control, 2019 - Roof space restraint straps
https://www.newhomequalitycontrol.co.uk/roof-space-restraint-straps/
[3]: Nordahl Rolfsen, C. et. al, 2020 - On-site inspections: the shift from forms to digital capture
https://sciendo.com/it/article/10.2478/otmcj-2020-0003